Boosting
Patient Entrepreneurship
The Patient Innovation (PI) Bootcamp is an acceleration program aimed at supporting patients, informal caregivers and collaborators to implement and scale up the innovative solutions they developed to help them cope with a need imposed by their health condition.
The PI Bootcamp is delivered in a blended way, with 2 weeks on-site (in Lisbon and Copenhagen) as well as online sessions. The entire process is supported by e-leaning materials designed to help teams of patients and informal caregivers to further develop and launch their device, diagnostic tools or digital health innovations.
What does it consist of?
The Patient Innovation Bootcamp will help teams learn about and develop:
Medical, regulatory and technological aspects

Lisbon, Portugal 🇵🇹

Business model

Online Sessions

Barcelona, Spain 🇪🇸

Pitches/transition to market

Copenhagen, Denmark 🇩🇰
.
Also, all teams will participate in the EIT Health Bootcamp Tour, at the end of 2021, which consists of an event where all EIT Health sponsored bootcamp participants will meet and participate in different workshops and network moments. In the end, the teams will be able to validate their clinical, technological and business concept. The teams will benefit from specialized mentoring.
All selected teams will receive up to 5000€ as reimbursement for travel and accomodations expenses.
How are the teams constituted?
The PI Bootcamp accepts teams constituted by at least one patient or one informal caregiver, who have developed an innovative solution to deal with a personal health condition (including diagnostics, wearable devices, telehealth, telemedicine, big data, apps, electronic health records, health information technology, personalised medicine, etc).
The teams must consist of three members with different roles, focusing on:
Overall business objectives and responsible for coordinating the team's work

Medical and healthcare delivery issues

Available technology options, requirements and architectural issues
Do you want to apply for the Patient Innovation Bootcamp?
2

Register in the interface

Register with your email in order to submit an application. You can create an account in the "First Login" section.

If you already have an account enter your email address and password in the "Identification" section.
3

Choose the Patient Innovation Bootcamp

Submit an application for the Patient Innovation bootcamp.

After clicking the "Submit an application" button, choose the Patient Innovation Bootcamp from the list of available forms. Click on the "Submit an application" button, fill the form and send it.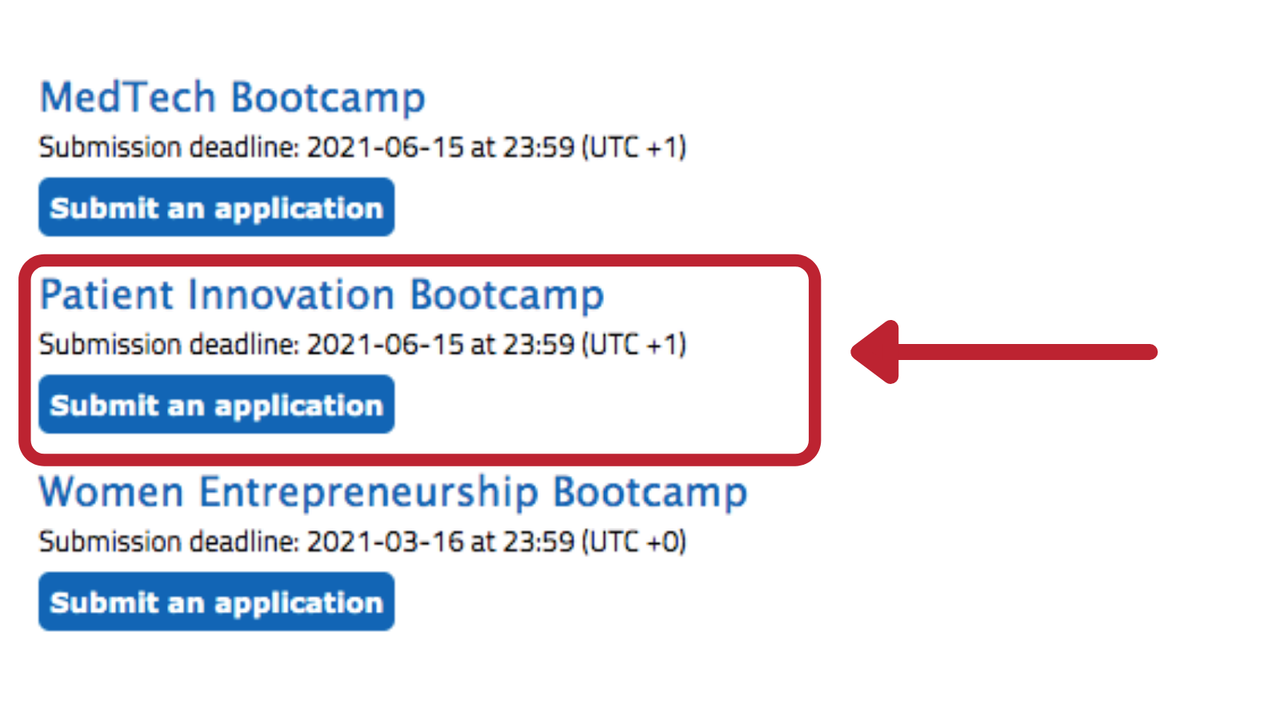 !-- TESTEMONIALS -->
Testemonials
See what some of the participants had to say about the Patient Innovation Bootcamp:
Jean-Michel Hedreux (Alfred Alert/11Health), participant
"In short, this Patient Innovation Bootcamp program is just perfect for startup patients who are creating the care and management solutions of tomorrow."
Babu Červenková (CF Hero), participant
"Participating on Patient Innovation Bootcamp helped us with understanding of the country's healthcare specifics, brought tons of information and helped with the contact network. For me personally the participating itself was a great experience."
.
.
Antxon Caballero (Heuristik), participant
"Patient Innovation Bootcamp gave us key insights to penetrate the Portuguese, Danish, and Catalan markets"
Gonzalo Fernández Picó (AppDermis), participant
"If you want to push your business and get well connected in the healthcare ecosystem, that is the place to be!"
.
.
Salomé Azevedo, mentor
This Bootcamp will open the eyes of everyone who works in entrepreneurship and innovation. As a mentor of this Bootcamp, the most amazing thing is the opportunity to meet heroes working hard to create a sustainable business. But it is not just another business, it's one that can save lives.
Copyright © 2021 Patient Innovation.

Powered by Orange Bird